The Real Knife is the most powerful weapon in Undertale because of it ATK power. Chara uses throughout Season 1 notably in the episodes *Determination - Continue.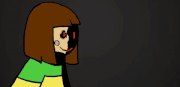 Real Knife is Chara's primary weapon, ranging a 99 ATK power, which may be enough to kill an opponent with a single hit. And once Chara absorbed the extracted Determination of the other humans, they gained the ability to alter their knife to accommodate the individual powers of the souls.
Abilities
These abilities are only valid for Season 1. Also, the following abilities appear only when Chara absorbs other souls determination.
Trivia
Frisk originally possessed the same weapon without the ability to create different colored attacks in their Genocide Run.
The different colored attacks can only be triggered when Chara absorbs the other souls Determination.