We are the Glitchtale encyclopedia, written and maintained by the Wikians. Since our start in 2016, we've become the largest and most comprehensive reference for the series.
Welcome
I know it's 15:20 3 July, 2022 in your place.

Welcome to the changing world of Glitchtale and on a beautiful Sunday.

Glitchtale is an animation of a glitched timeline story that revolves around a failed Genocide Route, that transforms the timeline to a point where characters like Gaster and Chara have been revived fully. Glitchtale was created on Feb 27, 2016, by Camila Cuevas.

Please note that this site may contain spoilers if you are not caught up with all of the series' currently released content.

Glitchtale Wiki is a Glitchtale encyclopedia written collaboratively by its readers, who are known as Wikians. The site is a Wiki, meaning that anyone who has an account, can edit almost any article right now by clicking on the Edit button that appears at the top of the page.

Remember, the story cannot be predicted that easily. This Wiki is a collective work for the show itself. Feel free to drop by and edit. You can add anything that's relevant and accurate to pages. Anything that is added that is false will be removed; if you add information, back it up. Please do not make any unnecessary changes to the wiki. You can login and help contribute to our wiki by creating new pages, uploading images, or editing existing articles. To get help with editing, contact Wiki Staff.

121,429

edits made on the wiki

500+

active editors on the wiki

To create a new page, type in the title in the box below.



Featured Article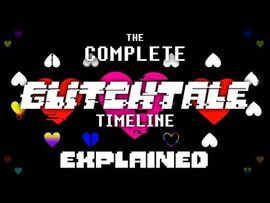 The timeline(s) initially begun with the beginning of the original game. A timeline starts the same, but the events happening within the timeline can cause many different routes...

Top 5 editors this week
Loading editors...
Navigation
---
Characters

Episodes

Plot Elements

Weapons

Crew

Asgore

Asriel

Alina

Bête Noire

Gaster

Jerry

Kumuzilla

Pink Creature(s)

Determination

FEAR

Police

Courtney (Project SNT)

Meredith

Veir
---
---